Pro-Russia militants fire from a residential area at Ukrainian border guards defending the Federal Border Headquarters in Luhansk, eastern Ukraine, on June 2, 2014 © AFP
People in Luhansk have largely tried to keep their heads down and go about their business during the two months that armed separatists have occupied this city's administration building and declared independence from Kyiv.
But the fact the city this week has witnessed some of the worst fighting in the Ukrainian crisis to date is creating a sense of panic, as residents feel trapped in a situation where neither the government nor the separatists can ensure their safety.
A man carries his son as he leaves his apartment building during an ongoing shoot-out between pro-Russian militants and border guards defending the Federal Border Headquarters in Luhansk on June 2.
The fear has grown as rumors swirl around the city that the Ukrainian Air Force could be preparing to bomb separatist strongholds downtown. On June 3, air-raid sirens went off in the city. In some offices people were allowed to leave work early to race home.
The mayor's office, which has been sidelined by the separatists, even published on its website a list of locations that could be used as bomb shelters by the public.
The air-raid scare comes as ordinary residents are still reeling from the explosion that damaged the city's main administration building in the city center on June 2. The explosion at the building, which the separatists use as their headquarters, occurred during the middle of the day in a heavily frequented office and residential district as fighting between separatists and government forces raged on the southern outskirts of the city.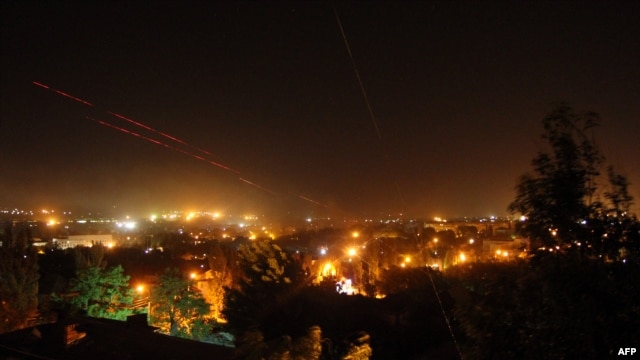 Tracer bullets can be seen being fired by pro-Russian militants at te National Guard base in Luhansk overnight on June 3-4  (more…)