Category Archives:
Environmental
Environment secretary Liz Truss has cut solar farm's subsidies saying they harm food production, but most UK solar farms successfully produce food as well. Karl Mathiesen investigates.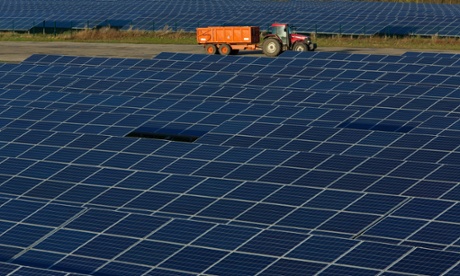 Sheep remain an essential part of this solar energy farm at Wymeswold in Leicestershire, and the panels even provide shelter for the animals. Photograph: Christopher Thomond/Christopher Thomond.
Karl Mathiesen reporting,
The environment secretary, Liz Truss, has stripped farmers of subsidies for solar farms, saying they are a "blight" that was pushing food production overseas.
But the new minister has fundamentally misunderstood the way solar farms operate, according to the solar industry and farmers.
Truss revealed on Monday new rules on payments under the Common Agriculture Policy that will see agricultural subsidies removed from solar farms. She said: "I am committed to food production in this country and it makes my heart sink to see row upon row of solar panels where once there was a field of wheat or grassland for livestock to graze."
Truss told the Mail on Sunday that 10,000 football pitches of panels were "in the pipeline". She said solar farms were "ugly, a blight on the countryside, and villages are pushing production of meat and other traditional British produce overseas".
But farmers who run solar farms said Truss's justification for removing the subsidies was flawed. First, almost all solar farms in the UK continue to produce food. Second, solar farms provide farmers with a way to diversify their income – helping them to stay in business.
"It seems a shame that people aren't becoming informed before they make judgments," said Clive Sage, who has a 4.8MW solar farm on his property in West Dorset and continues to produce prime lamb from beneath the panels. "As times have moved on, as a small family farm, we've had to diversify to survive."
He said this government had originally encouraged farmers to diversify their income streams through solar farming.
But Truss's move showed that the government did not understand the issue. "It's nonsense for anyone to say that you can't use land for solar production and agricultural production. The sheep compliment the solar really well. For them to pull the rug out, I don't really think this government understands the word sustainability."
"It definitely helped us to survive," says Andrew Hawkey of his 5MW solar farm in North Cornwall. Hawkey's family have been farming his land for four generations. "We are committed farmers, we are Cornish farmers and we want to stay farming." For the Hawkeys, there was never a choice between farming food and farming sun. His solar fields are also still used to produce lamb.
"There is virtually no loss [of production] at all. We could almost say we are farming double on the same land," he said. Originally the land had seen a rotation between crops and pasture. The only change was that now the land was solely used for sheep grazing. He said the solar panels had offered an unexpected benefit as they provided shelter for animals during the winter months.
Farmer Edward Packe-Drury-Lowe's property currently houses the largest solar farm in the UK at Wymeswold. The disused airfield was previously used for grazing sheep and cattle and growing oilseed rape. Packe-Drury-Lowe said the sheep remained an essential part of his farm.
He said there is anecdotal evidence from some farms that solar can actually provide a boost to the production of lamb because of the shelter provided by the panels. He says stopping crops that use pesticides also had an immediate effect. "If you look at the biodiversity, the bees, insect life, the gain is almost instant." This boost has a knock-on benefit to all farmers in the area.
Former energy secretary, Chris Huhne, told Newsnight on Monday that Truss's prioritisation of food production over energy made little sense. "We import our energy and we import our food, so frankly, saying that we should make less energy so that we don't have to import apples seems to me to be nuts."
Whether a net loss of food production occurs depends largely on what was being farmed before. This is governed by the government's planning guidance, which already stipulates that land for solar farms should preference "previously developed land, and if a proposal does involve greenfield land, that it allows for continued agricultural use and/or encourages biodiversity improvements around arrays".
Communities minister Kris Hopkins said planning provisions were already in place to ensure productive farmland remained unadulterated. "The guidance is clear that councils must protect good-quality farmland and consider the effective use of brownfield land."
The solar trade association's advice goes further, recommending highly productive crop land be avoided and only land graded 3b, 4 or 5 be developed for solar farms.
It appears that some farms, including Hawkey's which was built before the guidance came in around 18 months ago, have been placed on higher grade agricultural land. But the Solar Trade Association (STA) says this no longer happens at any of the projects they manage.
Solar farms do limit what can be grown on the land. In some cases, sheep alone have replaced a rotation of sheep, cattle and crops. But it is unclear whether this reduces the overall productivity of low grade land. Conversely, there are examples, such as the 14 MW solar array at Marsh Farm, where a solar farm on previously unused land is now running livestock for the first time.
The solar industry, whose farms were consistently attacked by the Consevative MP and former climate minister Greg Barker, were incensed by another Tory minister coming out in opposition to solar farms. Leonie Greene, from the STA, said Truss's comments were "damaging and incorrect".
Greene said: "The land is still available for farming – the solar fixings only take up 5% of the land. This means plenty of room for continued agricultural practices such as sheep, geese or chicken farming. As far as farm payments are concerned, solar should really be treated in the same way as orchards or fields with trees, where animals continue to graze the land in between."
Toddington Harper, from solar operators Belectric, said: "I think [Truss] has completely misunderstood the benefits. She's said we are taking land out of food production, which we are not. What else would you expect from a [former] oil executive?"
Harper said all 10 of Belectric's solar farms are still farmed for food and that the planning advice simply needed to be enforced. "She should be saying that every solar farm must continue agricultural use. It's happening most of the time but if it happens all of the time time that would be marvellous."
London Greens councillor Jenny Jones said Truss's suggestion to the Mail on Sunday that orchards were being replaced by solar farms was "total nonsense".
Jones said: "This misguided attack by the environment secretary deliberately ignores the fact that the planning system is already there to prevent unsightly and overly dominant solar farms or their deployment on high-quality productive agricultural land. Where they do go ahead on poorer grade soils, planning conditions should ensure that they boost biodiversity and revert back to their original use when appropriate."
---
Growers say this has been worst pumpkin season in a decade with hundreds of vegetables left rotting in fields after wet weather.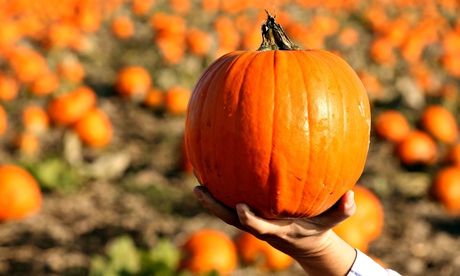 An estimated 10 million pumpkins are grown in the UK every year – 95% will be carved into lanterns for Halloween. Photograph: Chris Radburn/PA
 Rebecca Smithers, consumer affairs correspondent,
UK farmers and producers are warning there could be a shortage of pumpkins in the runup to Halloween, with hundreds of thousands rotting in the fields following the wet weather having to be pulped rather than heading for the supermarket.
Growers said this year has been the worst pumpkin season in a decade, citing Lincolnshire as the most affected area, where dwindling supplies would run out by the end of this week.
But supermarkets sought to play down suggestions of a shortage, saying that shoppers wanting to buy pumpkins ahead of Halloween next Friday would not be disappointed.
Halloween – imported from the US – is a major money-spinner for supermarkets and is the UK's second largest retail festival after Christmas. An estimated 10 million pumpkins are grown in the UK every year – 95% will be carved into hollowed-out lanterns for Halloween and 5% will be used for soups, stews and pies. Demand from retailers has soared by 35% this year as the annual festival gets ever more popular.
Jim Meer, director of fruit and vegetable supplier Barfoots, said: "The 2014 season has been extremely challenging for the supply of pumpkins into the UK market. The recent weather has made harvesting conditions extremely difficult and with increased demand and lower yields it's a juggling act to ensure our retail customers are getting sufficient stock through to fulfil the demand in store."
He said his company was taking the unusual step at this stage in the season "of now ceasing supply to wholesale customers which will unfortunately cut off supply for the smaller independents. With the other suppliers in Lincolnshire facing worse issues we are doing what we can to cover the inevitable stock shortage in the lead up to the main Halloween celebration."
After good, sunny, growing conditions in August and September, the heavy rain of October has made pumpkin skins soft, he said, which means that with extra humidity they get soggy and collapse before they are harvested. On some farms JCB diggers are being used to remove the wasted crops.
One Lincolnshire-based farmer, who did not wish to be named, said: "It's the worst I've seen for a decade. It's a very short harvesting season of three to four weeks but it is a write-off for 2014. The weather has made it impossible to harvest the crop in the field and what is coming out is neither up to the appearance required by the retailer or the quality to last through until Halloween. Our forecast is very bleak and I cannot see supply lasting further than the weekend."
Waitrose said there might be supply problems in the north of England, despite a plentiful crop of giant and carving pumpkins following an increased level of rain and higher temperatures. A spokeswoman said: "As pumpkins continue to grow based on the volume of water they have access to, the giant pumpkins continue to absorb as much water as possible – this has resulted in a larger than normal percentage of pumpkins seeing levels of breakdown."
The picture was better in the south, she said: "Reports from our southern producers (based along the south coast, Southampton and the Isle of Wight) have seen a very different story to our northern growers in Lincolnshire. Our southern growers have enjoyed warmer weather earlier in the growing season – this inevitably results in smaller, green pumpkins turning orange before they have fully developed, this then creates an abundance of carving pumpkins available, rather than the giant pumpkins." Waitrose expects to sell 12% more carving pumpkins than last year.
Sainsbury's said it expects customers to buy almost 1.5 million pumpkins, with just over one million likely to be sold in the week running up to Halloween. To avoid pumpkins going unnecessarily into landfill, the company will be educating shoppers about disposal – including using local authority composting facilities or composting at home – while customers in 10 trial stores will be able to return their pumpkins to store to be composted by its waste partners Biffa.
In the south-west, Barry Loudhrey, director of Over Farm Market in Gloucester, said growing conditions had been good, and his farm expected to sell 12,000 pumpkins between Halloween and Christmas. "This year we have an abundance of large to extra large pumpkins as well as small ones. We find the interest generated at Halloween makes people more interested in cooking with pumpkin."
---
Recent changes to the law, enabling companies to frack beneath landowners' properties without their permission, have fuelled resistance to fracking in Britain, says author and activist.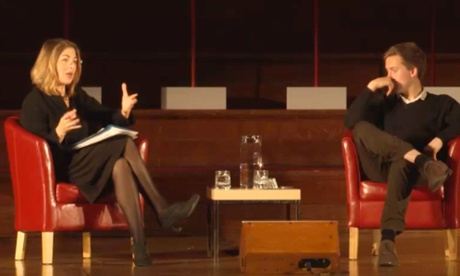 Naomi Klein speaking to Owen Jones about her most recent book This Changes Everything: Capitalism vs the Climate at a Guardian Live event. Photograph: Guardian talks
Adam Vaughan reporting,
Ministers' rewriting of the law to allow fracking to happen beneath people's homes without their permission flouts basic democratic rights, according to Naomi Klein.
The author and activist said that the UK government's changes to trespass laws, to speed up the ability for shale gas companies to frack beneath landowners' property, was energising resistance to fracking in Britain.
"What is animating the anti-fracking movement? Yes, it's water. It's also a defence of democracy. The fact the government is colluding with energy companies to force the right to frack underneath people's homes without their permission flies in the face of the most common-sense definition of democracy and self-definition," she told an audience at a Guardian event in London on Monday.
A consultation over the summer on the trespass law found that 99% of the 40,000 people who responded objected to the changes. But government officials said they would go ahead with the law change, as "no issues have been identified that would mean that our overall policy approach is not the best available solution."
Naomi Klein discusses her most provocative book yet, This Changes Everything: Capitalism vs the Climate.
Klein, whose new book addresses how capitalism is holding back efforts to tackle climate change quickly enough, said that shale gas and oil companies were being met by a global movement whose growth was incredible.
"The movement against fracking has been heroic. We are starting to see the kind of resistance where people have those stakes you're talking about," she told the event's chair, Guardian columnist Owen Jones. "People get involved in fighting fracking not because of climate change but because they're worried about their water. Water is what unites so many of these movements, whether it's against tar sands, pipelines or fracking, coal mining, it's water and love of place."
Klein highlighted the series of climate marches around the world in September, which saw more than a reported 400,000 people out in New York and tens of thousands in cities including London, Paris and Melbourne, as a cause for hope. "I was tremendously gratified by what just happened in New York."
She said it was not just the scale of the march in New York that had impressed her but the diversity, made up of local communities who had been hit by superstorm Sandy, indigenous people fighting tar sands developments, anti-fracking campaigners and what she described as the first time the Labor movement was out in force, calling for job creation in response to climate change.
"To me, it was not just the size of it, this march had a quality to it that I'd never seen at a mass environmental demonstration," she said, adding to applause: "I think we need to be very clear about this – the only way you can win against forces with a huge amount to lose is to build a movement of people, many more people, with a huge amount to gain."
The author also argued that rallying around action on climate change would be one of the most powerful ways to tackle austerity, by creating a case for investment in low carbon infrastructure from public money and taking energy ownership away from the 'Big Six' energy companies who she said had failed the UK. "This is our chance to liberate ourselves from the brutalising logic of austerity," she said.
"Climate is the big tent we've been waiting for, and why wouldn't it be, the atmosphere is the biggest tent of all, we're all under it and we need to start acting like it."
---