David Cameron indicates only lack of political consent at Westminster is holding government back.
Patrick Wintour, political editor.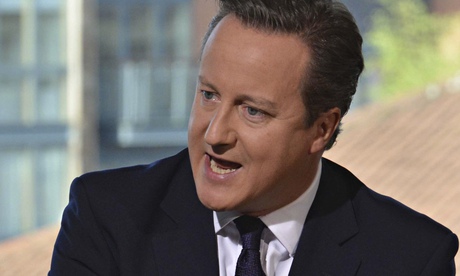 David Cameron said on the Andrew Marr Show that he was sympathetic with the view that Isis had to be defeated in Syria as well as Iraq. Photograph: Handout/Reuters.
David Cameron has given his broadest hint yet that he wants to extend the fight against Islamic State (Isis) to Syria and that only a lack of political consent at Westminster is holding the government back.
The prime minister said on Sunday he was sympathetic to the argument mounted by former chief of the defence staff Sir David Richards, that Isis had to be defeated in Syria as well as Iraq.
The former army general had told the Sunday Times: "You cannot possibly defeat IS [Isis] by only tackling them in Iraq. How the hell do you win the war when most of your enemy end up in a country you cannot get involved in?"
Cameron said on BBC1's Andrew Marr Show: "I have a lot of sympathy with that view, which is why I have said we support what the Americans and the five Arab nations have done in Syria. We have a Syria strategy which is to build up the Free Syrian Army [and] the Syrian National Coalition to achieve a political transition in Syria. But I wanted to take the House of Commons proposals that I could achieve consensus with to make sure Britain was playing its role in this coordinated action across both parties."
Cameron said he agreed that boots on the ground were needed but insisted they must not be British ones. "We are not trying to defeat Isil [Isis] from the air alone. We believe you do need troops on the ground but they should be Iraqi troops, they should be Kurdish troops. We are part of a large international coalition to degrade and ultimately destroy this organisation. But it can't be done unless the countries where this organisation has grown up play their part in destroying it."
Cameron hit back at critics such as the Respect MP George Galloway who have warned that the nature of the Isis positions mean many civilians will be killed.
"I do not accept that. There have been occasions when [Isis] are out in the open, threatening Christian communities, Yazidi communities, other Muslim communities, and they can be struck and stopped and that's exactly what's happened.
"But if what you are saying is that we need an uprising of the Sunni tribes rejecting these extremists and saying 'we want to be part of a democratic pluralistic Iraq', then yes, of course we do need that. Our strategy here is not some simplistic 'drop a bomb from 40,000 feet' and think you can solve the problem.
"It isn't. This is one part of a comprehensive strategy to build an Iraq that has a democratic, inclusive government for everyone and, in time, Syria needs exactly the same thing."
The defence secretary, Michael Fallon, said on Sky's Murnaghan programme that UK Tornados were ready to be called in to help troops on the ground.
"There is nothing token about this, quite the contrary. They need our help, not just with the Tornados flying daily from Cyprus, but also from the surveillance equipment overhead – to add to the operations of the Iraqi and Kurdish forces. We need to think about how we beat IS. IS is based in Syria and IS needs to be defeated in Syria as well as in Iraq."
Fallon warned that driving out Islamic State (IS) militants will not be a "weekend campaign", saying that the operations could continue for weeks or even months.
"This is not a weekend campaign," he told BBC Radio 4's The World This Weekend. "This is going to take a long time."
William Hague, the leader of the House of Commons and former foreign secretary, hinted there would be a stepping up of UK action beyond the six Tornados, saying there may be further announcements.
He admitted a proposal to fight Isis in Syria could "at the moment easily be defeated" in the Commons,and said: "That would not be a very wise thing to do."
He hinted at Labour opposition, saying: "The Labour party is a very, very large part of the House of Commons". He said the government would not bring a new motion spreading military action to Syria "if we thought we would be defeated as we were last year".
---