Home » Posts tagged 'Cuadrilla'
Tag Archives:
Cuadrilla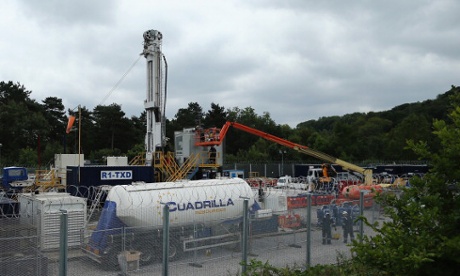 A view of the drill site operated by Cuadrilla Resources Ltd on 17 August, 2013 in Balcombe, West Sussex. Photograph: Dan Kitwood/Getty Images
UK shale gas exploration company Cuadrilla has been given the green light to test oil extraction in Balcombe, the West Sussex village that saw major anti-fracking protests last summer.
Shale gas explorer gets approval from county council to test oil flow rates at site that saw anti-fracking protests.
At a planning committee meeting that had to be adjourned at one point due to people disrupting it, West Sussex county council approved the company's application to undertake tests to see how fast oil would flow at a site on the outskirts of the village.
The committee's decision at County Hall North in Horsham on Tuesday was reportedly announced to cries of "shame on you" by some residents. Over 100 people attended the meeting.
Heidi Brunsdon, chairman of the committee, said: "I thought the debate was robust. Members gave all the issues a good airing and the further conditions we agreed might not go as far as some would have wanted, but we feel they were proportionate and fair in addressing the issues that members of the committee had surrounding this application." Monitoring of light and sound from the site were two of the conditions imposed on the approval.
Cuadrilla submitted a planning application in January for an oil flow test at the well it drilled last year.
The company has said it will not conduct fracking, the controversial process of injecting water, sand and chemicals at high pressure underground to release shale gas, at the Balcombe site. "Cuadrilla will not be carrying out hydraulic fracturing at the Lower Stumble site now or in the future," it said in a recent statement.
Brenda Pollack, Friends of the Earth's south east campaigner, told the Evening Argus: "We are extremely disappointed that councillors have not listened to local people. This is an attempt by Cuadrilla to set the wheels in motion for dirty fossil fuel extraction. We need the council and our government to push forward with clean energy solutions.
Keith Taylor, the Green party MEP for south-east England, said he was disappointed by the decision. "Residents had raised very serious concerns about air and water pollution, noise and traffic, as well as the impacts on the countryside and the community. I fear that today's decision will open the door to the dangerous dinosaur fossil fuel industry across south east England."
Charles Metcalfe, spokeswoman for Frack Free Balcombe Residents Association, said: "For the Weald [which runs across Sussex], this Balcombe planning application is a thin end of the wedge. This will be an emblematic planning decision that may determine whether a whole lot of other oil and gas companies pile in afterwards – or think twice. It's a decision that will affect communities right across Sussex, Kent, Surrey and Hampshire, and of course beyond. We shall fight."
Source The Guardian.