Britain's Tornado jet strikes expected to limit Islamic State advance to aid later, persistent, use of ground forces.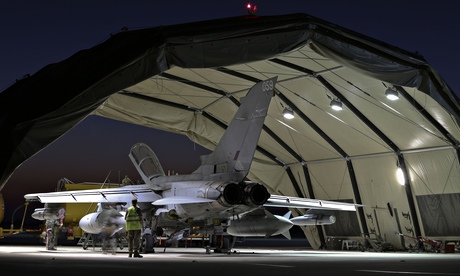 An RAF Tornado jet in Cyprus following air strikes against Isis in Iraq on Tuesday. Photograph: Neil Bryden/PA
Richard Norton-Taylor reporting,
Air strikes by RAF Tornado jets are the least efficient and most expensive way to attack Isis fighters in Iraq. But they are symbolic. They are the most visible evidence of Britain joining military action against Islamic State fighters and have the greatest political impact.
David Cameron, and his foreign and defence secretaries, Philip Hammond and Michael Fallon, have been at pains to stress that bombing would not be enough to defeat Isis, and that the military campaign could last for years.
More accurate missiles and sophisticated radar and infrared night-sight technology should allow the Tornado crews to respect what Fallon has called "very strict rules of engagement, obviously to avoid civilian casualties", though risks remain.
Yet while bombing from the air is more politically acceptable than "boots on the ground", a long campaign risks two consequences, analysts warn – public impatience and challenges to the RAF's resilience.
"This will be a persistent but low intensity campaign waged over a number of years," said Shashank Joshi, senior research fellow at the Royal United Services Institute.
He said a comparison could be made with the no fly zones operated by the UK and US over Iraq in the 1990s after the first Gulf war. "They were cautious, low risk, and sustained missions, designed to stabilise the situation rather than drastically change it."
Joshi added: "I anticipate that the air strikes will become a means of halting [Islamic State's] advance and softening up their resource base, so that local ground forces can, in due course, take them on with a greater prospect of success. Patience is the key. It is hard to see how the Iraqi army can make significant gains over the next year."
Isis could collapse much sooner than the government suggests. But if there are no results by Christmas, then the public might, wrongly, said Joshi, assume military action had failed. That was why British ministers, and John Kerry, the US secretary of state, had stressed the long timescale, in previous campaigns not an emphasis normally.
As in any multinational war, such as Kosovo, or the first Gulf war, military strategy would be shaped by the need to keep the countries' coalition together, analysts, including Joshi, said.
"Air strikes have to be cautious, avoiding high-risk, high-reward targets, because mistakes could compromise Arab and European military support," he said. "This means that some targets of opportunity will be foregone, even where that comes at the cost of Iraqi army losses on the ground."
By last weekend American aircraft had flown about 2,500 sorties and hit 270 targets, according to the Pentagon's central command. But America's capabilities cannot be compared to those of the UK. In the 1991 Gulf war the RAF had 30 combat squadrons; now it has seven.
The RAF's latest fighter bombers, the Typhoons, are not equipped with Brimstone missiles, the most accurate and, say analysts, the most suitable weapon to use against Isis. So it is left to the ageing Tornados to pursue what could be a very long campaign.
And just as the campaign of air strikes over Libya in 2011 led Cameron to cancel planned cuts in Tornado squadrons then, a squadron of Tornados due to be axed in April 2015 and replaced by Typhoons, will almost certainly now be saved.
---