The Great Stink of the 1800s alerted politicians to the filth in the Thames. The Victorian sewers fixed it, but trouble is brewing again. Is a clean river just a pipe dream?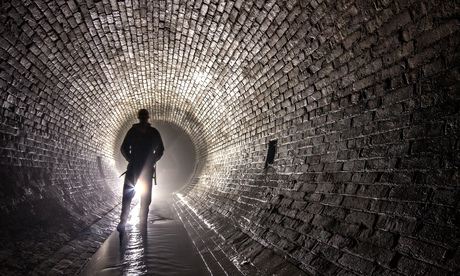 After 150 years, London's sewage system needs a rejig to keep up with its growing population. Photograph: Mark Lovatt
"Water is the giver of life," says the great-great-grandson of the engineer who revolutionised London's sewerage system. "That's why people always ask if there's water on Mars to support life. But it is also bringer of death, as we saw in the 19th century."
Quite so. Before Sir Peter Bazalgette's great-great-grandfather Joseph built 1,300 miles of sewers and river embankments in London in the 1860s, raw sewage flowed into the tidal section of the Thames and got stalled in a hellishly insanitary circulation system. The stench of what politician Benjamin Disraeli in the mid-19th century called the "Stygian pool" was bad enough – referencing the River Styx of Greek mythology, which formed the boundary between Earth and the underworld – but, worse, Londoners bathed in and drank this water. "Before the great embankments were built, the Thames flowed more gently so the shit went up and down and people were drawing their own effluent," says Bazalgette. If you're eating your breakfast, apologies for that last sentence.
The filthy Thames of the Victorian era was a relatively new phenomenon. As late as 1800 it had been clean enough for salmon to be caught and for Lord Byron to swim by Westminster Bridge. By the early 1830s it was a very different river. In 1834, the English wit and cleric Sydney Smith told Lady Grey: "He who drinks a tumbler of London water has literally in his stomach more animated beings than there are Men, Women and Children on the face of the Globe."
The results were deaths from water-borne diseases such as cholera and typhoid. Liverpudlians were less prone to suffer than Londoners – argues David Green, professor of geography at King's College London – because of their fondness for tea imported through Liverpool's docks; they were more likely to boil their water. After cholera arrived from India, there were epidemics in London in 1832, 1848, 1849, 1854 and 1866, in which thousands died.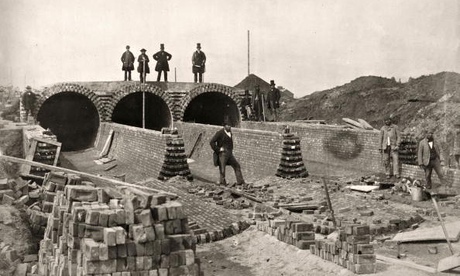 Sir Joseph William Bazalgette, top right, overlooks the Northern Outfall sewer being built below the Abbey Mills pumping station. Photograph: Getty Images Continue reading →