Matthew Hancock called for cuts to wind power subsidies while Liz Truss claimed renewable power was damaging the economy.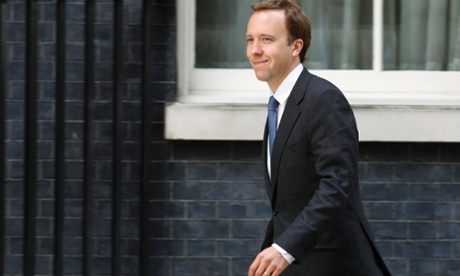 Britain's new minister for energy, business and enterprise, Matthew Hancock, at 10 Downing Street. Photograph: Suzanne Plunkett/Reuters
The new set of Conservative environment and energy ministers announced on Tuesday bring a track record of opposing renewable energy, having fought against wind and solar farms, enthusiastically backed fracking and argued that green subsidies damage the economy.
New energy minister, Matthew Hancock, signed a letter to David Cameron in 2012 demanding that subsidies for onshore windfarms were slashed. "I support renewable energy but we need to do it in a way that gives the most value for money and that does not destroy our natural environment," he said at the time.
Hancock, who takes over from Michael Fallon, also opposed new turbines in his Suffolk constituency, arguing: "The visual and other impact of the proposed turbines is completely unacceptable in this attractive rural corner of Suffolk."
New environment secretary and former Shell employee, Liz Truss, dismissed clean renewable energy as "extremely expensive" and said it was damaging the economy during an appearance on BBC Question Time last October.
"We do need to look at the green taxes because at the moment they are incentivising particular forms of energy that are extremely expensive," she said. "I would like to see the rolling back of green taxes because it is wrong that we are implementing green taxes faster than other countries. We may be potentially exporting jobs out of the country as our energy is so expensive."
In 2009, as deputy director of the free-market thinktank Reform, Truss said energy infrastructure in Britain was being damaged by politicians' obsession with green technology: "Vast amounts of taxpayers' money are being spent subsidising uneconomic activity," she said. Research from the London School of Economics recently concluded that green policies were not harming economic growth. Continue reading →