Home » Posts tagged 'Government'
Tag Archives:
Government
Article appears after the MoD confirms that British soldiers would head to northern Iraq to help train Kurdish forces.
Kunal Dutta reporting,
The British hostage John Cantlie has appeared in an online article calling for the British Government to "open a channel and negotiate" with Isis.
It appeared hours after the Ministry of Defence (MoD) confirmed that a "specialist" team of British soldiers would head to northern Iraq to help train Kurdish forces fighting the Islamic militant group.
The article, published in the Isis online magazine Dabiq, coincided with a fourth propaganda video featuring the 43-year-old photojournalist. In it he claimed Isis was "dug in for the fight" and that it was "conceivable" that foreign jihadists may return to their home countries to launch attacks.
Britain has stepped up its attack on Isis in recent weeks, with news emerging over the weekend that British troops are close to the frontline of the fight between Isis and Kurdish fighters in Irbil.
The team of "non-combat army trainers" will provide training for "heavy machine guns that were gifted by the UK last month," a Government spokeswoman said.
The development will inevitably draw criticism of "mission creep" with the move marking the first time British troops have been active on Iraqi soil since May 2011. The training group will join a small UK military reconnaissance team, which has already been on the ground for several weeks, with some 12 soldiers, from the 2nd Battalion the Yorkshire Regiment, understood to be involved.
Criticism over Western hostage policy has intensified since the murder of British hostages Alan Henning and David Haines and Americans Stephen Sotloff and James Foley. All four were cellmates of Mr Cantlie, the article reveals, adding that: "If our countries had just talked to the mujahidin, our chances of survival wouldn't have been low at all."
The US has the starkest position on hostage negotiation and considers ransom payment akin to funding terrorism – for which it will prosecute. The UK government does not formerly pay ransoms.
The Dabiq piece also cites Bowe Bergdahl, the US infantryman held by the Taliban for almost five years and freed in May in return for the release of five Afghans from Guantanamo Bay. "Our political leaders have the power, if they choose to change things," it concludes, adding: "Just ask our government to talk. That's all. Open a channel and negotiate with the Islamic State like the others did. If nothing is possible to agree on, then fine, but it cannot compromise policy to open a dialogue."
The Foreign Office would not be drawn on a response. A spokesman said last night: "We are aware of the video and the article and are investigating their contents."
The article also refers to a failed rescue mission by elite US Special Forces earlier this summer. It reads: "Yes, America tried to rescue us, but instead of spending all those millions of dollars sending ninja commandos and risking countless more lives like it was a Hollywood action movie, wouldn't it have been safer and wiser to have discussed options for prisoner exchange in the first place?"
---
The Grand Hotel in Brighton where five people were killed and 30 injured when an IRA bomb exploded. Photograph: John Manning / The Times
AT 2.54am on October 12, 1984, an explosion echoed across Brighton and Hove. The events of that night would be felt across the western world for years to come. Reporters BEN JAMES and FLORA THOMPSON look back at the biggest news story this city has ever seen.
A MONTH before the deadly terrorist attack a man called Roy Walsh checked into The Grand.
He stayed for four days in room number 629, seemingly doing nothing more than enjoying the tail end of the summer season.
But Mr Walsh was not Mr Walsh. He was Patrick Magee, a provisional IRA activist tasked with murdering the then Prime Minister Margaret Thatcher and as many of her cabinet members as possible.
He planted a bomb with a long-delay timer made from video recorder components and a memo park timer safety device – the type seen in egg timers.
It was packed with 20lb of gelignite.
Magee checked out and the 1984 Conservative Party conference checked in.
Security searched the building and sniffer dogs worked their way through the hundreds of rooms.
But despite the caution, the bomb was not discovered.
The Grand Hotel in Brighton following the IRA bomb attack. The photo was taken on the morning of October 12 1984, some hours after the blast. Photograph: Wikipedia
It is believed the dogs did not find the device because of the cling film wrapped around it, masking any smell of explosives.
The conference began and the leaders of the country came and went – while all the time the deadly bomb was ticking down.
Then in the early hours of the morning of October 12, a deafening blast blew a hole in the front of the Victorian hotel.
Bricks, debris and glass shot through the air as the midsection of the building collapsed into the basement.
Five were killed and dozens injured. Mrs Thatcher, who was awake at the time working on her conference speech, was unharmed.
She was taken, with her husband Denis, to Brighton Police Station before being taken to a safehouse.
This was the most audacious attack on British democracy since the gunpowder plot. It was a day that those involved would never forget.
Norman Tebbit, the then secretary of state for trade and industry, was asleep in his room with his wife when the bomb went off.
Speaking this week, the now 83-year-old said: "It woke me up and then the chandelier started swinging and ceiling fell in.
"We were covered in debris, we were completely covered – we were pinned down."
Trapped by bricks and pieces of furniture, it was a number of hours before the emergency services got to the Conservative MP and his wife Margaret, who was left permanently disabled as a result of the blast.
Asked if he was panicking, he said: "What's the point in panicking. I was just thinking, I hope somebody gets me out before I bleed to death."
Bomb victim Lord Tebbit, then Britain's Trade and Industry Minister, being lifted from the ruins of the Grand Hotel. Photograph: The Daily Mail
The photograph of Lord Tebbit being carried out of the devastated building is one of the enduring images of the day.
He was taken to Royal Sussex County Hospital where doctors asked if he was allergic to anything. The defiant cabinet minister replied "bombs".
He was later transferred to Stoke Mandeville Hospital in Buckinghamshire where he remained for several weeks.
Across Brighton and Hove the explosion had woken many and even set off car alarms.
Argus photographer Simon Dack had just got to sleep when he heard the blast.
He said: "I turned to my wife and said it sounded like a car backfiring. She said it sounded like a bomb.
"The next thing I knew I was on the phone to one of our reporters, Phil Mills, who told me that The Grand had been blown up.
"I had been at the hotel earlier that night to have a drink with a few photographers, I couldn't believe it.
"I got in the car and rushed down. The whole place was lit up with emergency lights. I parked up at the bottom of West Street and just started taking pictures."
He was met by then Argus reporter Mr Mills who had rushed down with his pyjamas under his clothes.
Mr Mills said: "My wife heard the phone ring and she prodded me in the ribs – it was The Argus newsdesk telling me something that I initially thought was part of a dream: A bomb? At the Grand?
"I threw on clothes over my pyjamas (thinking it was a hoax and that I'd be back in bed in an hour) but as I drove into town and saw a convoy of emergency vehicles speeding past me I realised this was real."
Former Prime Minister Margaret Thatcher and her husband Denis on October 12 1984. Photograph: The Telegraph
He met up with Mr Dack and fellow Argus reporter Jon Buss before splitting up to speak to whoever was in a state to answer.
"I followed the trail of masonry that had snapped off a flagpole on the opposite side of the road to the hotel and met a couple who had been sitting on the beach. The young man said: 'Bit of the pole and brick flew over our heads – the explosion was deafening'.
"The then education secretary Sir Keith Joseph was in total shock in his silk dressing gown, in the lobby of the nearby Metropole Hotel: His answers were mumbled and jumbled. Nigel Lawson (in his pyjamas) was more coherent. All were in a state of disbelief."
Mr Mills was one of the first on the scene and just minutes after arriving he had started filing his copy back to the Argus office.
But not all the journalists at the conference had been as quick off the mark.
He said: "I was sending copy from the lobby of the Old Ship when another pyjama-clad man exited from the lift and demanded receptionists tell him what was going on. He was the Washington Post reporter who had slept through the explosion and the first he knew anything was when his phone rang – it was his newsdesk asking when he would be filing copy."
Mr Dack added: "It was the biggest story in the country for a long time and the biggest ever in Brighton. But at the time it didn't seem like that. There were all these rumours flying around about who was dead and who wasn't.
The 30th anniversary of the Brighton bombing will be marked by peace campaigners, political activists and academic scholars. Photograph: The Belfast Telegraph
"I was just worrying about taking pictures. My biggest concern strangely was getting the pictures back to the office. We would have to get to a phonebox and call in a despatch rider to take them. I was there all night and the next day just taking pictures.
"I don't think I went back into the office for a couple of days."
Jennie Dack, Mr Dack's wife, had her own experience of that historic morning.
She was working at Marks & Spencer in Western Road and was called to open up early so the delegates could buy new clothes.
She said: "They were wandering around in their pyjamas all looking like ghosts. They were covered in dust and were clearly shocked at what had happened.
"It was a very surreal experience and a very strange atmosphere."
Five had been killed. Eric Taylor, North West area chairman of the Conservative Party, Lady Jeanne Shattock, wife of Gordon Shattock, western area chairman of the Conservative Party, Lady Muriel Maclean, wife of Sir Donald Maclean, president of the Scottish Conservatives and Roberta Wakeham, wife of Parliamentary treasury secretary John Wakeham.
Perhaps the most high profile to be killed was Sir Anthony Berry, then MP for Southgate. The 59-year-old was with his wife, who was badly injured.
His daughter was in London staying with her sister and remembers the moment she turned on the TV news that morning.
She said: "These were the days before mobile phones so we were waiting around for information.
"We didn't really know what had happened or if he was there or not. We were just hoping for the best."
It was several hours before they received any news, and when they did it was the news they had dreaded.
The fire brigade shine a light on the bomb blast in The Grand Hotel Brighton in 1984. Photograph: ALAMY
She said: "We got a call in the afternoon and told his body had been identified.
"I was 27 at the time and it changed my life forever, we were all devastated.
"I remember this feeling of disbelief, it was so hard to take in.
"Shortly after his death I got a letter from him. I had been living in India and the letter had gone out and then come back. When I opened it I forget for a minute that he had gone.
"It was a very difficult time, just a few months before my uncle had killed himself and then this.
"Everyone rallied round and I remember us trying to be strong at the funeral. We wanted it to be a small event so Margaret Thatcher didn't come.
"Princess Diana, (Sir Anthony was her uncle) was also there. I remember her coming up to me and saying what a fantastic man my father was and how she was so sorry."
Despite the utter devastation, Ms Berry decided something positive had to come from the death, fear and destruction.
Patrick Magee was convicted for five counts of murder and told he would serve 35 years minimum.
However, he was released having served just 14 under the terms of the Good Friday Agreement.
Shortly after his release, in November 2000, Ms Berry met with her father's killer – sparking criticism from some families of victims of IRA attacks.
They went on to meet a number of times over the following months and a documentary about the meeting was broadcast in December 2001.
The Grand Hotel on the night of the bombing in 1984. Photograph: The Argus
She now speaks around the world on the topic of peace building and reconciliation and has launched her own foundation, Building Bridges for Peace.
She will appear with Mr Magee at an event at the Old Market Theatre, Hove, on Sunday.
She added: "Just days after I decided I had to do something positive. I am proud of what I've done but I still feel like I need to do more."
Ms Berry added: "I would say he is a friend (Magee). It is an unusual friendship but I care about him.
"I am always going to be against any violence but if I understand why he, and others, chose to use violence then that can help me to look at how we can make the world a place where people are less likely to use violence.
"Forgiveness is such a difficult word. But he is my friend now. We spend a lot of time together."
She added: "He regards me as a friend. He knows that my dad was a wonderful human being and he knows that some of the qualities I have came from my father and that weighs heavily on him."
The Grand Hotel in Brighton after the 1984 IRA bomb at the Tory Party conference. Photograph: The BBC
Sir Andrew Bowden breaks his silence…
UNTIL now the then Brighton Kemptown MP Sir Andrew Bowden had kept silent about his experiences that historic morning.
Now, on the 30th anniversary of the attack, he speaks exclusively to The Argus about how he rushed to the aid of Margaret Thatcher.
He said: "It is an evening of my life which is seared into my mind. I have deliberately held back from speaking about this because I did not feel it was appropriate until now to explain my involvement in the events.
"I do think fate played a part and to some extent it was destiny."
He said the release last week of the Iron Lady's private papers by the Margaret Thatcher Archive Trust seemed like a fitting time to share his recollections.
Details of how Baroness Thatcher calmly took time to personally cancel a hair appointment at a Hove salon were among the revelations published about her actions after the bombing.
Sir Andrew, 84, who now lives in Ovingdean, said it was "fate" he was not in The Grand at the time of the bomb.
"I left at about 1am and walked home – I lived not far away in Sussex Square at the time.
"My wife was still awake when I got in and we chatted about the evening's events before going to bed.
"And it was not long before we heard a deep boom, like thunder. We thought 'what the devil was that?' and ten minutes later the phone rang."
A senior police officer told him an attempt had been made on the Prime Minister's life. He was summoned to her side as she took shelter at Brighton police station.
Sir Andrew said: "I threw on my clothes and dashed down to the Edward's Street station where I was taken straight into the chief superintendent's office. She was there, sitting in the chief superintendent's chair and surrounded by chief constables and senior officers.
"I rushed over to say 'Prime Minister I am so sorry' and she immediately said 'Andrew, I am alright' which amazed me."
He added: "I had been involved in the security in the run up to the visit and we had identified a number of safe houses in the area, a couple in Brighton, one in Lewes and one in Rottingdean.
"The officers and I were debating the best place to move her and I saw she was beginning to get irritated.
"She was tapping her fingers on the desk and suddenly banged her hand down and said, 'Gentlemen, I have sat here listening to this discussion for some time and a decision needs to be made. I do not mind where you take me but there is one clear instruction. You must have me back at the conference centre by 9am. Is that understood?'.
"She showed remarkable courage."
The Grand Hotel Brighton as it is today.
---
Ministers reject 40,000 objections to allow fracking below homes without owners' permission.
by Damian Carrington.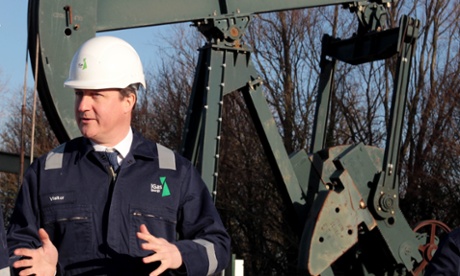 Prime minister David Cameron during a guided tour of the IGas shale drilling plant near Gainsborough, Lincolnshire. Photograph: Lindsey Parnaby/PA
Fracking will take place below Britons' homes without their permission after ministers rejected 40,000 objections to controversial changes  to trespass laws.
The UK government argued that the current ability for people to block shale gas development under their property would lead to significant delays and that the legal process by which companies can force fracking plans through was costly, time-consuming and disproportionate.
There were a total of 40,647 responses to a consultation on the move to give oil and gas companies underground access without needing to seek landowners' permission, with 99% opposing the legal changes. Setting aside the 28,821 responses submitted via two NGO campaigns, 92% of the remaining responses objected to the proposals.
The government response to the consultation, published online on the eve of the parliamentary vote on military strikes against Islamic militants in Iraq, concluded: "Having carefully considered the consultation responses, we believe that the proposed policy remains the right approach to underground access and that no issues have been identified that would mean that our overall policy approach is not the best available solution."
New laws will now be passed giving automatic access for gas and oil development below 300m and a notification and compensation scheme will be run by the industry on a voluntary basis.
---
Should fracking trespass laws be changed?
Responses to the question 'should the government legislate to provide underground access to gas, oil and geothermal developers below 300 metres?'

"It is essential that we make the most of home-sourced energy and start exploring the natural energy supplies beneath our feet. As the cleanest fossil fuel shale gas provides a bridge to a much greener future," said a statement from the Department of Energy and Climate Change. "By removing barriers to deep underground drilling access, we are speeding up oil and gas and deep geothermal energy exploration. "
The Conservative energy minister, Matt Hancock, said: "These new rules will help Britain to explore the great potential of our national shale gas and geothermal resources, as we work towards a greener future – and open up thousands of new jobs in doing so."
"This is an important day for the future of energy supply in the UK," said Ken Cronin, chief executive of the industry's trade body, UK Onshore Oil and Gas  (UKOOG). "Landowners on the surface will not notice this underground activity [usually a mile deep] and it will have no impact on their day-to-day lives."
But Green Party MP Caroline Lucas said: "This sham consultation exposes the government's disregard for the growing public concern about the major environmental and health risks of fracking. The decision to deny people the right to say no to fracking under their own homes is outrageous. It shows that ministers are putting the greed of oil and gas companies above the public interest in tackling climate change."
Simon Clydesdale, from Greenpeace, said: "The roar of opposition to this arrogant policy is deafening, yet ministers are determined to blithely ignore what the overwhelming majority of the British public thinks and wants. There will be a hefty political price to pay for this massive sell-out to the narrow interests of the shale lobby."
Friends of the Earth's Jane Thomas said: "This government seems hell-bent on fracking irrespective of widespread opposition. You'd think with a general election approaching politicians would listen to public opinion and get behind the popular energy solutions of cutting waste and backing renewables."
The changes to the trespass laws were also criticised by Scotland's energy minister Fergus Ewing: "UK government proposals to remove the right of Scottish householders to object to drilling under their homes, without so much as debate in the Scottish parliament, flies in the face of Scotland's cautious, considered and evidence based approach on this issue. It is also fundamentally an issue affecting land ownership rights."
In January, another controversial pro-fracking legal change was passed in the face of overwhelming public opposition. The change, which ditched the requirement to notify homes individually of future shale gas operations, was criticised by a Lords committee as having been rushed through without proper parliamentary scrutiny.
Fracking companies will still need to obtain regulatory permissions, such as planning and environmental permits.
Earlier in September, the planning committee of the South Downs National Park Authority voted unanimously to reject an application by Celtique Energie to undertake exploratory drilling as a precursor to fracking at Fernhurst in West Sussex.
---