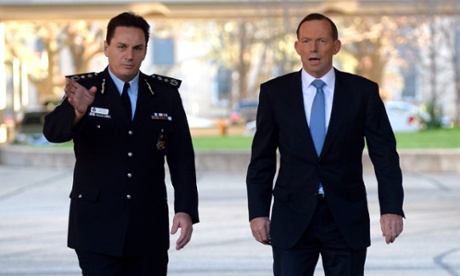 Tony Abbott and AFP commissioner Tony Negus in Canberra on Friday. Photograph: Alan Porritt/AAP
Australia is sending 100 more federal police officers to Europe in the hope they will be able to join a Dutch-led mission to secure the site of the downed Malaysia Airlines flight MH17.
Tony Abbott said some of the police could be armed and backed up by defence personnel, as he rejected suggestions the fall of the Ukrainian government could affect the completion of a deal with Ukraine to enter the site.
The Australian prime minister also emphasised that the mission's aim was merely to bring back the remains of loved ones, not to engage in "the politics of eastern Europe" – an apparent signal that he would refrain from further forthright criticism of Russia or pro-Russian rebels as efforts continue to seek acceptance for an international mission to enter the site.
The 298 people who died in the apparent shooting-down of the plane in eastern Ukraine last week included 38 Australian citizens or permanent residents. On Friday evening the Australian government revised that number up from 37 after information came to light about a New Zealand citizen who was a long-term resident in Victoria.
The pre-deployment of 100 Australian Federal Police (AFP) officers is in addition to the 90 officers who have already been sent to Europe to take part in the international police mission.
The AFP commissioner, Tony Negus, said 50 officers had been sent to London while 40 were in Ukraine and the Netherlands. It would be one of the largest overseas police delegations since the 2002 Bali bombings, Negus said.
In an update to the media on Friday, Abbott said Ukraine had formally delegated leadership of the investigation to the Netherlands, and Australia was close to finalising an agreement with Ukraine to allow the deployment of federal police to the site.
Abbott said the deal was unaffected by the resignation of Ukraine's prime minister, Arseniy Yatsenyuk, after the collapse of the governing coalition. He said Australia's agreement would be with the president, Petro Poroshenko, and would require the approval of the Ukrainian parliament "but nothing that's happened overnight is expected to hinder that".
The Netherlands will provide about 40 unarmed police to the MH17 crash site, media reports indicate.
But Abbott raised the prospect of some of the AFP officers being armed and backed up by the Australian Defence Force (ADF).
"Many of the AFP deployed won't be armed, some of them could be armed, and yes there will be some ADF as part of this deployment," Abbott said.
Abbott said a "very modest" ADF team was in Ukraine, led by a colonel who was a liaison officer, several planning personnel and a personal protection team for the envoy and former defence chief Angus Houston.
Negus said the safety of officers was paramount and it had been "well documented this is a difficult part of the world at the moment".
"We will be deploying in there in an unarmed capacity," Negus said.
"There may be some members that can be armed, but if this mission goes ahead, it will be led by the Dutch. We'll be working hand in glove with the Dutch to make sure that this mission is done as safely as possible."
Abbott said the mission was still "very much in the planning stages" and humanitarian in nature. He said the Russian president, Vladimir Putin, had been "full of sympathy, as you'd expect from another human being, for what's happened to 37 families in Australia and he certainly has been publicly and privately supportive of securing the site".
Abbott said the discovery of more wreckage and remains in a heavily wooded area showed it was more important than ever to properly secure the crash site.
"Others can engage in the politics of eastern Europe. All we want to do is claim our dead and bring them home," he said.
Asked whether this was a sign he was stepping away from strong criticism of Russia to increase the chances of a team being allowed to enter the crash site, Abbott said: "What I've tried to do over the last week since this atrocity took place has been to respond appropriately to the events of the particular time. What we are focused on now, what we are solely and wholly focused on now, is Operation Bring Them Home. That's what we're focused on."
The acting opposition leader, Tanya Plibersek, said Labor supported the deployment of AFP officers and potential ADF back-up.
"This is a very dangerous area of Ukraine, there are heavily armed rebels on the site," she said. "They have been haphazard about allowing access to the site, it's plain that not all of the rebel groups are cohesive, that there are different units operating that don't follow a clear command structure.
"So, making sure that Angus Houston, that our police, federal police … any consular officials who are on the site are safe – if that takes Australian defence personnel, then of course we support that."
In a phone conversation with Abbott on Friday, the US president, Barack Obama, praised Australia's leadership and indicated the US would co-ordinate closely with Australia, a White House spokesman said.
Abbott later told reporters it was an international mission "not a US operation", but Obama had voiced his "full support for what Australia and other countries have in mind".
Abbott said the personnel leaving Australia would include Dr Simon Walsh, a trauma expert who led the response to the Indian Ocean tsunami.
via Australia sends 100 more police for MH17 mission, as rhetoric softens | World news | theguardian.com.