Home » Posts tagged 'Sochi'
Tag Archives:
Sochi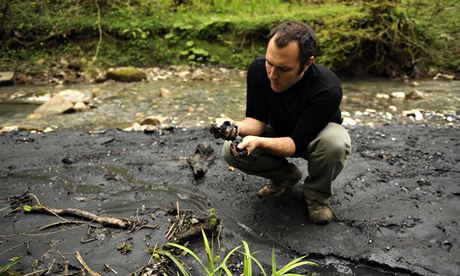 Suren Gazaryan of the Environmental Watch on North Caucasus looks at waste close to the 2014 Sochi construction site. Photograph: Mikhail Mordasov/AFP/Getty Images
Criticising Russian state projects and the destruction of the environment leads to police intimidation, trumped up criminal charges and prison, says a green activist forced to seek political asylum in western Europe after protesting against a luxurious mansion being allegedly built for Vladimir Putin and the destruction of protected wilderness for the winter Olympic games in Sochi.
"It has become almost impossible now to object to grand projects which have the authorities behind them. People are threatened and intimidated," says zoologist Suren Gazaryan, who on Monday won a $175,000 prize in the Goldman awards, the equivalent of a "green Oscar". He is now in Germany after receiving political asylum in Estonia.
Gazaryan, with other members of Russian ecological group Environmental Watch on North Caucasus group (EWNC), has been a leading critic of the developments along the Black Sea coast and of the corruption surrounding the Olympics. In the runup to the Sochi games last year, the group issued photographs of the damage created by new roads and building in the national park and the Caucasus reserve. "There has been massive destruction of natural landscapes," he says.  (more…)