Growing pressures on emergency departments contribute to their second-worst performance ever.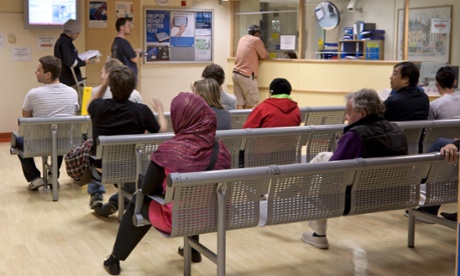 In the seven days to 7 December, 286,429 patients sought treatment from NHS A&E departments across England. Photograph: Robert Stainforth/Alamy
Denis Campbell, health correspondent, The Guardian.
Record numbers of patients had to wait more than four hours for A&E treatment last week, fuelling increasing fears the NHS is facing a winter crisis even before very cold weather has arrived.
Growing pressures on hospitals also meant that emergency departments recorded their second-worst performance ever against the politically important target that 95% of patients should be treated within four hours.
In the seven days to Sunday 7 December, the NHS across England managed to treat and then admit or discharge just 87.7% of the 286,429 patients who arrived at hospital A&E units. That was significantly down on the 90.4% performance seen the week before.
The highest-ever number of patients were also forced to spend between four and 12 hours on a trolley waiting to be admitted last week, in a further sign the service is struggling to meet the rising demand for care, despite ministers giving it an extra £700m to help it cope.
NHS England, which runs the service and allocates its £96bn budget, admitted that hospitals are being put under "extra pressure" and identified the rising number of attendances at A&E as a key reason.
It is "pulling out all the stops" to avoid not being able to cope, it insisted.
In total 35,373 patients waited more than four hours in what the NHS calls Type 1 A&E units – those situated at hospitals – before they were treated, the highest figure since records began in late 2010. The previous highest figure was 34,595 in April 2013, just after the problem-strewn launch of the NHS's new 111 telephone advice service led to a surge in demand.
Last week's 35,373 is also more than 50% up on the 21,276 patients who waited more than four hours in the same week last year.
In addition, 7,760 patients who had been treated then endured between four and 12 hours on a trolley as they waited to be admitted to the hospital from its A&E. That is more than 2,000 more than the week before, and is further evidence that hospitals are facing mounting difficulty in dealing with the growing number of patients and increased complexity of illness and injury they are facing.
It is also more than double the 3,666 patients who experienced a trolley wait in the same week in 2013.
Dame Barbara Hakin, NHS England's national director of commissioning operations, said: "This week over 110,100 emergency admissions to hospital and 436,229 attendances – up nearly 30,000 on the average for the same week over the past years. Unsurprisingly this level of demand continues to put extra pressure on our hospitals.
"But the NHS remains resilient and is pulling out all the stops, with local hospitals, ambulances, GPs, home health services and local councils all working hard to open extra beds and seven day services using the extra winter funding that has been made available", she added.
---