Ineos has made no secret of its interest in shale gas
Chemicals giant Ineos has announced plans to invest up to £640m in shale gas exploration in the UK.
The company plans to use the gas as a raw material for its chemicals plants, including Grangemouth in Stirlingshire.
Grangemouth is currently running at a loss, but Ineos believes shale gas will transform the economics of the plant.
Shale gas extraction is promoted as an important potential energy source, but has sparked opposition from environmental groups.
Exploration rights
Shale gas is extracted through a technique known as fracking, or hydraulic fracturing, in which water and chemicals are pumped into shale rock at high pressure.
Numerous anti-fracking groups have formed and protests have been staged at several sites over fears of earthquakes, water pollution and environmental damage.
Ineos is currently building Europe's largest shale gas import facility to feed its petrochemicals plant at Grangemouth – but it wants to produce home-grown shale gas as well.
In recent months it has been buying up rights to explore across hundreds of square miles of the Midland Valley around the Stirlingshire site.
Ineos is also thought to have applied for further licences as part of the government's ongoing onshore licensing round.
Safety 'skills'
The company outlined plans on Thursday to invest hundreds of millions pounds in UK exploration.
"I believe shale gas could revolutionise UK manufacturing and I know Ineos has the resources to make it happen, the skills to extract the gas safely and the vision to realise that everyone must share in the rewards," said Ineos boss Jim Ratcliffe.
The firm added that "substantial further investment would follow if the company moved to development and production".
BBC industry correspondent John Moylan said the move will be seen as a significant vote of confidence in the sector, and will position Ineos as one of the major players in the emerging industry.
But, he added, it will also put Ineos in the sights of protesters who believe shale gas and fracking are dangerous and harmful to the environment.
A spokesman for Greenpeace UK characterised Ineos' investment as "giant speculative bets on unproven and risky resources".
"It seems that Ineos have based their business plan on breathless PR brochures rather than scientific reports," he added.
Shale gas sites in UK.
'Transparent bribe'
Earlier this year, Ineos announced plans to hand over up to £2.5bn of shale gas revenues to communities close to its wells.
The company has bought the licence for shale gas exploration and development across a 329sq km area around its Grangemouth power plant.
It will give away 6% of revenues to local homeowners and landowners.
However, Friends of the Earth Scotland criticised the move as "a transparent attempt to bribe communities".
The British Geological Survey has estimated there are "modest" shale gas and oil resources in the area.
Fracking is used extensively in the US where it has revolutionised the energy industry.
The Scottish government has called for devolved powers on fracking after the UK government decided to press ahead with plans to let companies drill at depths of 300m below private land without consent.
---
Analysis: John Moylan, BBC Industries Correspondent
This sounds like a huge investment by Ineos.
But any firm wanting to bring shale gas from the exploration stage through to full production will have to spend hundreds of millions of pounds.
An industry report earlier this year suggested that a single shale gas production site with 10 wells might cost as much as £350m. So firms intending to have multiple gas production sites will have to spend eye-watering sums.
But the timing of this announcement is key. The government is currently assessing applications made by operators for new onshore licences to explore for shale gas.
Firms have to demonstrate that they have the cash and know-how to exploit a license area. If this has been a competitive license round – and there's a suggestion that this is the case – then firms like Ineos will have to lobby hard to ensure they get the areas that they want.
There could be more announcements like this from other industry players in the weeks and months ahead.
---
Related Stories
---
The 40-seat "Bio-Bus" runs on biomethane gas generated through the treatment of sewage and food waste
The UK's first bus powered entirely by human and food waste has gone into service between Bristol and Bath.
The 40-seat "Bio-Bus" runs on biomethane gas generated through the treatment of sewage and food waste.
The eco-friendly vehicle can travel up to 300km (186 miles) on one tank of gas, which takes the annual waste of about five people to produce.
It is run by tour operator Bath Bus Company and will shuttle people between Bristol Airport and Bath city centre.
The biomethane gas is generated at Bristol sewage treatment works in Avonmouth, which is run by GENeco, a subsidiary of Wessex Water.
GENeco general manager Mohammed Saddiq said: "Gas-powered vehicles have an important role to play in improving air quality in UK cities but the Bio-Bus goes further than that and is actually powered by people living in the local area, including quite possibly those on the bus itself."
---
How do you power a bus with waste?
The bio-bus runs between Bath and Bristol Airport.
A single passenger's annual food and sewage waste would fuel the Bio-Bus for 37 miles (60km).
Its combustion engine is similar in design to diesel equivalents in conventional buses.
Compressed gas is stored in dome-like tanks on the roof of the Bio-Bus
The gas is generated through anaerobic digestion – where oxygen starved bacteria breaks down biodegradable material to produce methane-rich biogas.
To power a vehicle, the biogas undergoes "upgrading", where carbon dioxide is removed and propane added.
Impurities are removed to produce virtually odour free emissions.
Compared to conventional diesel vehicles, up to 30% less carbon dioxide is emitted.
---
Green capital
The service from the airport to Bath carries about 10,000 passengers each month.
Bath Bus Company's Collin Field, said: "With so much attention being directed towards improving air quality generally, the public reaction to the appearance of this bus on a service between a world heritage city and an airport will further focus on the potential for this particular fuel."
He said the bus was being launched at a very "appropriate" time, as Bristol is to become the European Green Capital next year.
Bristol sewage treatment works processes around 75 million cubic metres of sewage waste and 35,000 tonnes of food waste each year.
A total of 17 million cubic metres of biomethane, enough to power 8,300 homes, is generated annually at the plant through a process known as anaerobic digestion.
---
Fracking's potential has been 'overhyped' by politicians and shale gas will not reduce energy prices or reliance on gas imports, says UK Energy Research Centre.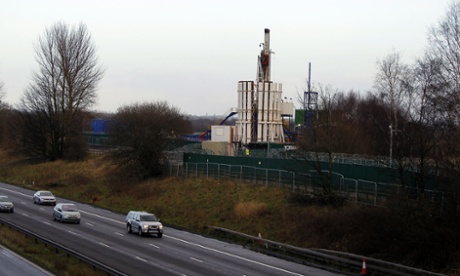 The fracking site at Barton Moss, Greater Manchester. "Any talk of shale gas making the UK self-sufficient again … is far-fetched," says the UKERC report. Photograph: Peter Byrne/PA
Adam Vaughan for The Guardian.
Politicians have overhyped fracking's potential and the prospect of shale gas making Britain self-sufficient in gas again is far-fetched, according to government-funded researchers.
The UK became a net importer for gas in 2004 as North Sea production declined, and the coalition has heavily promoted shale gas on the grounds of energy security and economic growth. David Cameron says the UK is "going out all for shale" and on Wednesday the government announced the first 'national shale gas colleges'.
But a new report by academics at the Imperial College-based UK Energy Research Centre (UKERC) says significant shale gas production in the UK is unlikely to get underway until next decade and will not reproduce the American 'shale revolution' that has put the US on course to energy self-sufficiency.
Jim Watson, an author of the report and professor of energy policy at the University of Sussex, said that industry and politicians had "overhyped" the impact shale will have on prices and energy security.
"Looking at the evidence base, it's very hard to support some of the statements made both by industry and some politicians that it's going to bring down prices, strengthen energy security or create jobs through cheaper energy any time soon. It may have an impact. But a lot depends on how fast shale develops," he said.
The authors are unambiguous that shale gas will not reduce energy prices or reduce the UK's reliance on gas imports, which are mostly supplied by Norway and Qatar today.
"Any talk of shale gas making the UK self-sufficient again, let alone allowing significant exports, is far-fetched," says the report, The UK's Global Gas Challenge. It also cautioned against "a blind belief that a future UK shale gas revolution will solve all our problems".
A second report by UKERC warns that by 2025, the time any such shale gas industry is up and running in the UK, global gas consumption must have peaked and begin rapidly tailing off to avoid dangerous levels of global warming.
With the development of widespread technology to capture and store the carbon emissions from those gas plants, that deadline moves back to 2035.
But carbon capture and storage (CCS) technology is so far largely unproven at scale and the world's first major CCS power plant only switched on last month. UKERC's report says "whether CCS will actually be commercialised or not is currently far from certain", though Watson says recent developments in North America mean he is more optimistic than two years ago.
The report, A Bridge to a Low-Carbon Future? Modelling the Long-Term Global Potential of Natural Gas, suggests gas's role as a quick fix to cut carbon emissions – gas emits significantly less CO2 than coal when burned – could be short-lived.
Gas has been hailed by some advocates as a 'bridge' or 'transition' fuel as economies move to renewable energy and nuclear power to reduce greenhouse gas emissions and tackle climate change.
If CCS doesn't take off, to keep temperature rises under 2C as governments have agreed to do, the report's modelling showed "gas consumption peaked in 2025 and declined terminally thereafter: the role that gas can play as a transition fuel was thus substantially reduced".
However, despite the short window of opportunity, the authors say the amount of coal that could be displaced by gas is significant in terms of cutting emissions.
Dr Christophe McGlade of UCL, who led the modelling work, said: "Gas could play an important role in tackling climate change over the next 10 to 20 years."
Watson added: "In those countries which a have a lot of coal in their energy systems, China being the prime example, gas has a role to play with or without CCS." He said ensuring gas consumption peaked and declined rapidly in 2025 or 2035 would "require significant policy intervention" from governments.
Separately on Tuesday, the Department of Energy and Climate Change announced the creation of the UK's first specialist colleges for training people for the shale gas industry. Headquartered in Blackpool, the National College for Onshore Oil and Gas National College will be linked to colleges in Chester, Redcar and Cleveland, Glasgow and Portsmouth.
Matthew Hancock, the new Tory energy minister, said: "Families, villages and towns across the UK could benefit from this new industry and its supply chain which could create 64,500 jobs. That's why we are investing in the people behind project. Only by arming people with the skills they need to be shale specialists can we provide career opportunities for thousands of young people, boost the power and competitiveness of our firms and help the UK economy remain strong and competitive.
"To make a world-class cluster of expertise in the North West of England, just as Aberdeen is a world class cluster of expertise for offshore oil and gas."
Helen Rimmer, Friends of the Earth north west campaigner said in response: "The north west deserves investment in jobs and skills, but this should be in energy sectors of the future such as tidal, wave and solar which the region has in abundance – not dead-end fossil fuels."
Gas consumption in the UK has already peaked, and development of UK shale gas has been slower than expected. Hydraulic fracturing to extract shale gas will not resume until 2015, the first exploratory fracking in the country since 2011.
---