Home » Posts tagged 'youtube'
Tag Archives:
youtube
In an online magazine, the terror group says it is legitimate under Islamic law.
Salma Abdelaziz, CNN
(CNN) — In a new publication, ISIS justifies its kidnapping of women as sex slaves citing Islamic theology, an interpretation that is rejected by the Muslim world at large as a perversion of Islam.
"One should remember that enslaving the families of the kuffar — the infidels — and taking their women as concubines is a firmly established aspect of the Shariah, or Islamic law," the group says in a an online magazine published Sunday.
The title of the article sums up the ISIS point of view: "The revival (of) slavery before the Hour," referring to Judgment Day.
The Muslim world at large repudiates that interpretation as a perversion of Islam.
The fourth edition of the group's English-language digital magazine called "Dabiq" said that female members of the Yazidi sect, an ethnically Kurdish minority living mostly in Iraq, may legitimately be captured and forcibly made concubines or sexual slaves.
The rationalization for a return to slavery — repudiated around the world — coincided with the release of a Human Rights Watch report on crimes committed by ISIS against the Yazidis in Iraq based on interviews with 76 displaced people in Dohuk.
"The Islamic State's litany of horrific crimes against the Yazidis in Iraq only keeps growing," said Fred Abrahams, special adviser at Human Rights Watch. "We heard shocking stories of forced religious conversions, forced marriage, and even sexual assault and slavery — and some of the victims were children."
A 17-year-old kidnapped girl named Adlee recounts how a large bearded man forced her into a home in Falluja, where she was beaten and endured violent sexual advances before escaping two days later, the Human Rights Watch report reads.
ISIS forced tens of thousands of Yazidis to flee their homes in August when the extremists stormed many of the community's towns and cities in Iraqi Kurdistan. Displaced families and monitoring groups reported jihadists kidnapped hundreds of Yazidi women and girls, and many were sold or given away to militants as "spoils of war."
The terror group's 56-page propaganda publication also boasts of a "massacre against (Kurdish) PKK soldiers" alongside graphic images of slain men dressed in fatigues. On the next page, ISIS glorifies its "Services for Muslims" with photographs of a care home for the elderly and a cancer treatment center for children.
The issue, titled "The Failed Crusade," includes an alleged copy of slain American journalist Steven Sotloff's last letter to his mother and says the victim's Jewish identity warranted his beheading by ISIS.
Another ISIS captive, British journalist John Cantlie, allegedly pens the last section of the magazine, saying he expects to be killed soon, and "unless something changes very quickly and very radically, I await my turn."
---
Family of American Abdul-Rahman Kassig, an aid worker, call for prayers for their son and freeing of all innocent people held by militants.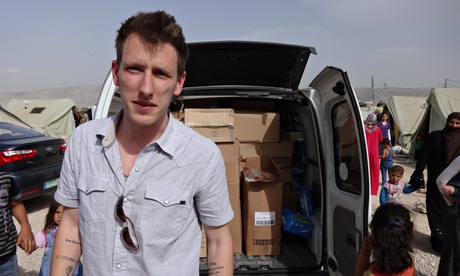 US aid worker Abdul-Rahman (formerly Peter) Kassig delivering aid with the relief organisation he founded, Sera. Photograph: Sera
Emma Graham-Harrison reporting,
The parents of a 26-year-old medical aid worker identified in an Isis video as the next western hostage the militants will murder unless the US-led coalition stops its bombing campaign have called on the world to pray for their son, Abdul-Rahman Kassig.
Ed and Paula Kassig said their son had been working for the relief organisation he founded, Special Emergency Response and Assistance (Sera), when he was captured a year ago on his way to Deir Ezzor in eastern Syria. The couple released a video statement on Saturday night (see below) that includes a personal message from Paula Kassig to her son.
They also said in a written statement: "As Muslims around the world, including our son Abdul-Rahman Kassig, celebrate Eid ul-Adha, the faith and sacrifice of Ibrahim, and the mercy of Allah, we appeal to those holding our son to show the same mercy and set him free."
Kassig first went to the Middle East in 2007 as Peter Kassig, a US soldier with an elite ranger unit. Five years later he felt compelled to revisit the region in an attempt to help ordinary people caught up in the fighting. He worked as a medical aide for Palestinian refugees and Syrians injured on both sides of the vicious civil war. The friendships he built drew him even deeper into the conflict and eventually he set up his own tiny aid group to ferry blankets, food, cooking gas, medical supplies and other necessities into some of the most dangerous parts of Syria.
"Our efforts, however small, are focused on providing acute logistical support and assistance in areas too difficult for other humanitarian organisations to effectively operate," the Sera website proudly announces.
Most of the funding for Sera came from Kassig's own savings, he said, and its biggest mission to date had cost just $2,000. But Kassig was confident, ambitious and already applying for bigger grants. "We don't need millions of dollars to be effective," he said in an interview with the Syria Deeply website last February.
He was organising an aid trip when he was captured on 1 October 2013 on his way to Deir Ezzor. His family and Sera had kept news of his kidnapping out of the media until Kassig appeared in an Isis video of the murder of British aid worker Alan Henning.
In the video released last Friday a masked man threatens that Kassig will be killed next in retribution for western air strikes on Isis positions, and names him as Peter Edward, although former hostages have said that he converted in captivity and changed his name to Abdul-Rahman. His newfound Muslim faith has been a source of comfort over the long months since he was seized, those prison friends have told his family.
Kassig grew up in Indiana and joined the US military at 18. Within months he was deployed to Iraq, but his tour of duty was cut short in 2007 when he was given an honourable discharge for medical reasons. He began studying for a degree in political science at Butler University in his home state, but after the violence and bloodshed he had witnessed in Iraq, he found college life unsettling. "I was going to school with kids who looked the same, were the same age as me, but we weren't the same," he told CNN in 2012. "I wanted more of a challenge, a sense of purpose."
So in 2010 he dropped out to train as an emergency medical aide, got married but quickly divorced, went back to university and then dropped out again to put his medical skills to use in Lebanon. "I am not a doctor," he said. "I am not a nurse. But I am a guy who can clean up bandages, help clean up patients, swap out bandages, help run IVs, and make people's quality of life a little bit better."
Although he had huge ambitions for his small organisation, he had no illusions about the risks the team were running. "The truth is, sometimes I really think I would like to do something else, but at the end of the day this work is really the only thing that I have found that gives my life both meaning and direction," he said in an interview with Time magazine just a few months before his abduction.
■ British schoolteacher David Bolam has been released after being held hostage by militants in Libya, the Foreign Office has confirmed. A spokeswoman said Bolam was "safe and well after his ordeal" and that he has been reunited with his family. Bolam was working at the Benghazi European School when he was abducted earlier this year. His kidnapping had not been reported at the request of the Foreign Office and his family.
---
THE CAPTIVES
2012
22 November Journalists James Foley and John Cantlie kidnapped at an internet cafe in Binesh, Syria, while heading to the Turkish border.
2013
March British aid worker and former RAF engineer David Haines kidnapped near the Atmeh refugee camp, close to Turkish border, while assessing camp locations for a French agency.
4 August US-Israeli journalist Steven Sotloff kidnapped near Aleppo, after crossing into Syria from Turkey.
1 October US soldier-turned-aid worker Peter Kassig detained on his way to Deir Ezzor in eastern Syria.
26 December UK aid worker Alan Henning abducted by masked gunmen in the Syrian town of Al-Dana. He was there as part of an aid convoy.
2014
19 August Video of Foley's murder uploaded to YouTube. He was aged 40.
2 September Video of Sotloff's murder found on file-sharing site. He was 31.
13 September Video of Haines's murder released. He was aged 44.
18 September Isis releases the first of a series of propaganda videos featuring John Cantlie, discussing western foreign policy in the region. Experts said he appeared to be acting under duress.
3 October Video of Henning's murder released. He was aged 47.
---
As Muslims around the U.K. begin their Eid celebrations, Shaukat Warraich, editor of Imams online, calls for special prayers of peace for the family of Alan Henning, following the British humanitarian worker's brutal killing by ISIS. See his message that these un-Islamic actions are appalling the British Muslim community as one.
Find out more about Imams Online on:
Website: http://www.imamsonline.com/
Facebook: https://www.facebook.com/imamsonline
Twitter: https://twitter.com/ImamsOnline